Oilfield Services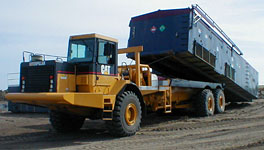 Rig Moving
We started moving rigs over ten years ago and since then it has become a major part of our business. We have moved equipment for Nabors, Patterson, H & P, Pioneer, Red Hawk Drilling, and Key. We have acquired a lot of specialized equipment together with Stevens Welding to move rigs in our area.
Our bed truck was built by Stevens Welding Glenburn, ND for us to use while moving rigs or for anything else that might need to be moved.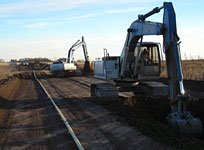 Pipeline
We have the ability to run a large pipeline crew if needed. They have done just about anything in any condition. The crews can bring everything from boring machines, hydro vacs, frost trenchers, and side booms to the job. Together with Arrow Roustabout we can get your pipe in the ground.

Earthmoving
We have a fleet of modern equipment to meet all of your needs. We have several lowboys to move on a moment's notice.
During the winter when the ground is frozen we have the large rippers, frost saws, and hydraulic hammers to get your work done. We also have shops to park equipment in so that it's at your disposal. Each crew has a generator to plug their equipment in on site if needed.